Click on the photo below to see Portfolio 2, some of my pictures of youth culture in Japan.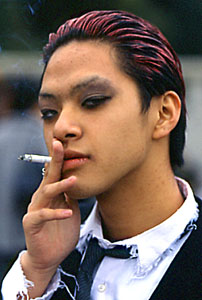 These photographs of Japanese youngsters were taken in Tokyo. Most of them are around fifteen to seventeen years old. These kids come from the suburbs to Harajuku in Tokyo on a Sunday. And dress up in whatever might take their fancy. Called "Cos Play," or costume play, this is a way to be somebody else for a day. Strike an attitude, pose, be somebody.




Portfolio 3:
Sports, fashion and lifestyle.

Under construction!



Portfolio 4:
Black & white night photography.
Under construction!

Portfolio 5:
Corporate and commercial.
Under construction!